FOR IMMEDIATE RELEASE
9/01/2015
The Public Building Commission was recognized today for its work in cleaning up a former Brownfields site that today is home to the new Chinatown Branch Library.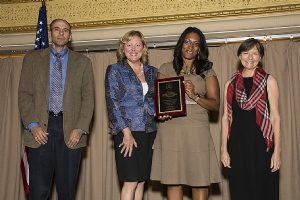 The environmental remediation work directed and managed by the PBC was recognized at a ceremony at the US Environmental Protection Agency's (EPA) Region 5 Open House event. Region 5 includes the states of Illinois, Indiana, Michigan, Minnesota, Ohio and Wisconsin, with one project from each of the six states selected for recognition. EPA Regional Administrator Susan Hedman presented the award to PBC Executive Director Felicia S. Davis.
"I want to thank the EPA for this recognition, and most importantly, for providing the PBC with the funding that enabled us to take a heavily contaminated site in the heart of Chinatown and transform it into a vibrant community anchor that will provide lasting benefits to the City of Chicago and our residents," Davis said.
In 2014, the PBC applied for an Illinois Revolving Loan Fund (RLF) Brownfields Cleanup funding and received $760,055 for the project. The site where the library was developed, at the corner of Wentworth and Archer avenues, historically was situated adjacent to a large railroad corridor in the City of Chicago as well as an auto parts warehouse. Extensive environmental investigations were conducted by the PBC and the funding was used primarily for environmental remediation services that included an innovative on-site treatment of hazardous lead and the removal of 5,300 tons of contaminated soil, including soil that was contaminated with hazardous waste lead, the bi-products of petrochemicals and polychlorinated bi-phenyls or PCBs.
The PBC used a unique process to clean up the site, which lessened the impact on the environment and made it more cost effective. "This recognition also underscores how the PBC strives to find innovative methods that maximize the use of public resources for our projects," Davis said. "The work that PBC staff did to successfully initiate and complete this project is another example of how team work and partnerships are at the center of our mission."
The Region 5 Open House precedes the agency's Brownfields 2015 conference where the PBC will deliver a presentation on its clean-up program for the Chinatown Branch Library.
About the PBC: The Public Building Commission of Chicago manages construction and renovation projects for the City of Chicago and its sister agencies. Mayor Rahm Emanuel serves as the PBC's chairman. Felicia S. Davis serves as the Executive Director of the PBC. Additional information about the PBC and its projects can be found at www.pbcchicago.com. You can also follow the Public Building Commission of Chicago onTwitter, Facebook, Flickr, Pinterest and LinkedIn.