FOR IMMEDIATE RELEASE
5/16/2014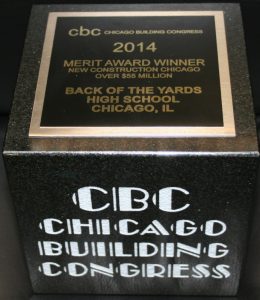 For the third year in a row, the Public Building Commission of Chicago (PBC) has been named the winner of a Chicago Building Congress (CBC) Merit Award and singled out for two finalist mentions for project excellence, the PBC announced today.
The Back of the Yards Campus: Chicago Public Schools College Preparatory High School and Chicago Public Library branch library, 2111 W. 47th Street, in the Back of the Yards community, was awarded the Chicago Building Congress 2014 Merit Award for new construction projects over $55 million.
Ping Tom Memorial Park Fieldhouse, 1700 S. Wentworth Avenue, in the Armour Square community, was singled out as a finalist for new construction projects under $15 million and Jones College Preparatory High School, 700 S. State Street, in the Loop, was singled out as a finalist for new construction projects over $55 million.
The industry awards were given out May 15 at the CBC's annual awards ceremony in downtown Chicago and recognize the collaborative effort required during the building process and the impact of that effort on communities.
"We are proud to once again receive this award and recognition for these projects because they demonstrate the importance and impact these projects have on the communities they serve," said Erin Lavin Cabonargi, Executive Director of the PBC. "We are pleased to accept these awards on behalf of our client agencies for whom they were built: Chicago Public Schools, Chicago Park District and Chicago Public Library as partners in development of these community anchors. We are grateful to the CBC for this prestigious recognition."
Lavin Cabonargi also thanked the project design and construction teams whose work helped to deliver the award-winning projects. Back of the Yards Campus was designed by STL Architects and built by The George Sollitt Construction Company. Ping Tom Memorial Park Fieldhouse was a design/build project led by Wight & Company and Jones College Prep was designed by Perkins + Will and built by Walsh Construction.
The design and construction teams worked closely with PBC clients and teams of engineers. This collaboration is at the core how PBC manages these projects, Lavin Cabonargi noted, especially in the design/build model used for the Ping Tom Memorial Park Fieldhouse. It is the collaboration and PBC's exemplary project oversight that helps the projects get delivered on time and under budget.
Other PBC projects that have won the CBC Merit Award include Chicago Public Schools' Ogden International Elementary School in 2012 and Chicago Park District's 31st Street Harbor in 2013, as well as other finalist mentions.