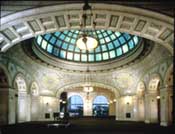 Chicago's first permanent main library is now one of the city's finest architectural gems. This remarkable building, standing between Washington Boulevard and Randolph Street, was constructed in 1897.
In 1973, the PBC converted this Chicago Public Library branch into the Chicago Cultural Center.
The building's beauty has been preserved through meticulous restoration of both the exterior and interior. For example, in 1984, the PBC was further commissioned to rehabilitate the Cultural Center's stunning staircase. This grand staircase is the graceful centerpiece of a three-story vaulted lobby that is inscribed with the names of great writers.
Known informally as the "people's palace," today's Cultural Center was designed to be-in the words of the founding library board – "an enduring monument worthy of a great and public spirited city." And endured it has, serving to link the arts community to the general public.
One of Chicago's most unique facilities, the Chicago Cultural Center houses the city's Department of Cultural Affairs and its official Visitor Information Center; the Claudia Cassidy Theater; art exhibits; educational programs; and a collection of books.
Listed on the National Register of Historic Places, the Cultural Center was designated a Chicago Landmark in 1976. The building's beaux-arts style was influenced by the 1893 World Columbian Exposition, with architectural styles both Greek and Roman. Inside, the building's rooms are modeled after the Doge's Palace in Venice, the Palazzo Vecchio in Florence, and the Acropolis in Athens. However, the building is best known for its two fabulous stained-glass domes.