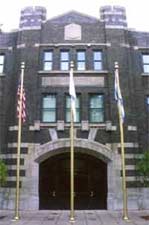 As the nation's first public college-prep military school, the Chicago Military Academy-Bronzeville was unveiled amid much pomp and circumstance. Mayor Richard M. Daley shared ribbon-cutting duties with such dignitaries as U.S. Army Secretary Louis Caldera; Illinois Senator Richard Durbin; Chicago Public Schools Chief Paul Vallas, and Gery Chico, president of the Chicago Board of Education.
Listed in the National Register of Historic Places, the former 8th Regiment Armory stood dilapidated and forgotten – and vacant since the 1950s – before the Public Building Commission began its $18.5 million makeover.
The Academy's decorative bronze doors opened for the 1999 school year to 140 freshmen who were offered 26 modern classrooms, a media center and ballroom. While restoring the armory's graceful iron staircases to their former glory, the PBC also rebuilt the drill hall into a three-story, sunlit, multi-purpose space that will host community activities, sports and marching exercises.
Through the PBC's rehabilitation efforts, a significant piece of history has been preserved. The building once served as headquarters for the first African-American commanded regiment in the nation – a regiment that fought in the 1916 United States-Mexico border conflict and, in 1918, helped drive the remaining German army out of France. Bronzeville leaders hope this new building will emerge as the center of African-American culture, as it was from 1920 to 1950 when dances, boxing matches and concerts flourished under its roof.
Future plans for the Chicago Military Academy-Bronzeville include construction of an annex with 15 additional classrooms as enrollment grows. The restoration work already completed on this building has been recognized by the National Trust for Historic Preservation.