FOR IMMEDIATE RELEASE
1/8/2018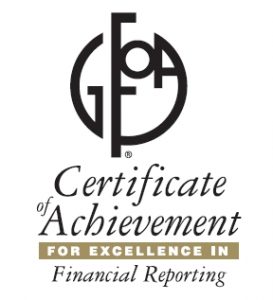 The Certificate of Achievement for Excellence in Financial Reporting has been awarded to the Public Building Commission of Chicago (PBC) by Government Finance Officers Association of the United States and Canada (GFOA) for its 2016 and 2015 comprehensive annual financial report (CAFR).
The Certificate of Achievement is the highest form of recognition in the area of governmental accounting and financial reporting, and its attainment represents a significant accomplishment by a government and its management.
Carina E. Sanchez, Executive Director of the Public Building Commission, expressed delight regarding the award by saying, "I commend the entire PBC Finance team for their work on the PBC's CAFR. This award is a testament to our commitment to improving our transparency with our partners, stakeholders and the general public. We are honored to receive such a prestigious award."
The CAFR was judged by an impartial panel to meet the high standards of the program, which includes demonstrating a constructive "spirit of full disclosure" to clearly communicate its financial story and motivate potential users and user groups to read the CAFR.
The report was prepared in accordance with United States generally accepted accounting principles and meets all requirements of State of Illinois and the City of Chicago finance law. "The PBC believes this report was accurate in all materials respects and was presented in a manner which is fairly set forth the financial position of our organization," said Sanchez.
###