FOR IMMEDIATE RELEASE
7/16/2019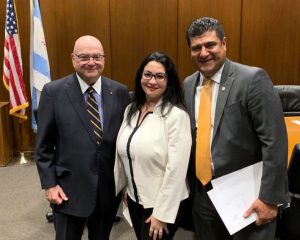 Lucino Sotelo was sworn in today as the newest member of the Public Building Commission of Chicago's (PBC) Board of Commissioners.
Appointed to the Chicago Board of Education in June 2019, Mr. Sotelo now becomes a part of a governing body that advises the PBC on the construction and renovation of municipal buildings, facilities and infrastructure in Chicago.
"PBC projects touch the lives of Chicagoans for generations to come and reaches into every corner of the city. I am grateful for this appointment and look forward to providing counsel and making recommendations on the transformative spaces the PBC creates for residents of all ages to play, learn and grow," Sotelo said.
Sotelo serves as Chief Marketing Officer for KemperSports Management and is an accomplished marketing, digital, analytics and customer experience executive, having previously led high performance teams to deliver transformational results for companies such as Grainger, BMO Harris, Grant Thornton, HSBC and others through his management consulting contributions.
Carina E. Sánchez, PBC Executive Director, welcomed Sotelo to the Board by saying, "The experience and insight of the PBC's Board of Commissioners further our vison of developing public projects that strengthen our neighborhoods. We are honored that Mr. Sotelo has agreed to serve on the PBC's Board of Commissioners and join the nine other business and civic leaders as we continue to deliver improvements to capital and infrastructure in every Chicago neighborhood."
Mayor Lori Lightfoot serves as Chairman of the PBC Board of Commissioners. Of the ten Commissioners, one each is appointed by the Chicago Board of Education, the Chicago Park District, the Cook County Board of Commissioners, the Cook County Forest Preserves and the Metropolitan Water Reclamation District of Greater Chicago.
Sotelo's term will expire on September 30, 2023.