For Immediate Release                                                                                                                                                                                          Bryant Payne – Public Building Commission, (312) 742-0878
October 7, 2021
Chicago – Kimberly Neely DuBuclet was sworn in as the newest member of the Public Building Commission of Chicago's (PBC) Board of Commissioners.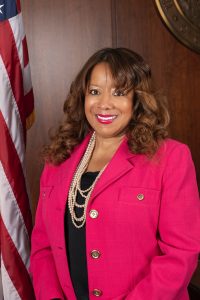 As a native resident of the South Side and a lifelong Chicagoan, DuBuclet serves on the Metropolitan Water Reclamation Districts of Greater Chicago's Board of Commissioners where she is Chairman of the Federal Legislation and Labor & Industrial Relations Committee. DuBuclet also serves as Vice Chairman of the Budget & Employment Committee, Pension, Human Resources & Civil Service Committee, and the Stormwater Management Committee.
With her appointment to the PBC Board of Commissioners, DuBuclet becomes part of a governing body that advises the PBC on the construction and renovation of municipal buildings, facilities, and infrastructure in Chicago.
"I'm honored to serve as a member of the Public Building Commission Board of Commissioners. I look forward to bringing my experience to the board, as we continue to invest in and rebuild Chicago and make equitable investments that benefit all of Chicago's neighborhoods," DuBuclet said.
Previously, DuBuclet served as the Legislative and Community Affairs Director for the Chicago Park District where she worked with the community organizations and elected officials around the city and the state to improve parks and park programming throughout Chicago. As part of her duties, she closely monitored legislative activity at all levels of government to assess the impact of proposed legislation on the Chicago Park District.
In addition, DuBuclet served as a Representative in the Illinois General Assembly where she represented the 26th District. While serving, she received an award from the Illinois Environmental Council for consistently voting with the environmental caucus.
"We are honored that Ms. DuBuclet has agreed to serve on the PBC's Board of Commissioners and join the nine other business and civic leaders whose dedication to the city and its communities has led them to volunteer their time to help shape Chicago's built environment," Carina E. Sanchez, PBC Executive Director said. "As a PBC Commissioner, Ms. DuBuclet experience and insight will further the PBC's vision of developing public projects that strengthen our neighborhoods."
DuBuclet graduated from the University of Illinois at Urbana-Champaign where she earned a BS in Marketing. She finished her formal education by earning a Master's in Business Administration from the University of Chicago Booth School of Business. In addition, Commissioner DuBuclet is active in numerous community organizations.
DuBuclet's term will run through 2026.
About the PBC: The Public Building Commission of Chicago manages construction and renovation projects for the City of Chicago and its sister agencies. Mayor Lori Lightfoot serves as the PBC's chairman. Carina E. Sanchez serves as the Executive Director of the PBC. Additional information about the PBC and its projects can be found at www.pbcchicago.com. You can also follow the Public Building Commission of Chicago on Twitter, Facebook, and LinkedIn.