FOR IMMEDIATE RELEASE
11/14/2017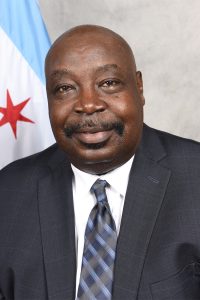 James F. Ellis, Jr. was sworn in today as the newest member of the Public Building Commission of Chicago's Board of Commissioners.
As the Business Manager for Laborers' Local 1001, Ellis provides insight to potential issues, gathers pertinent information and assess program effectiveness for approximately 2,000 Chicago Department of Streets and Sanitation workers. He also serves on the Dawson Technical Institutes Advisory Board of Trustees and Labor International Union of North American African-American Caucus, where numerous community-based programs are offered to thousands of individuals and where assistance is offered to laborers and operators to become apprentices.
With deep organizing roots, Ellis' years of community work and activity with a number of community and faith-based organizations and boards, reinforced Mayor Rahm Emanuel's decision to appoint him to the Board of Commissioners.
"I am grateful to Mayor Emanuel for this appointment and look forward to continuing the important and excellent work of the PBC as they oversee and help to ensure quality public facilities in Chicago and throughout Cook County," Ellis said.
Carina E. Sánchez, Executive Director of the Public Building Commission, welcomed Ellis to the Board by saying, "We are honored that Mr. Ellis has agreed to serve on the PBC's Board of Commissioners, joining the 10 other business and civic leaders whose dedication to the city and its communities has led them to volunteer their time to shape Chicago's built environment and its future. His commitment to community will help us as we continue to build and strengthen relationships with our clients and the communities we serve."
Ellis' term will run through 2022.
###