Branch will include an enclosed YOUmedia digital lab for teens, a Maker Lab for children and an Early Learning Play Space for kids ages birth to five
CHICAGO – Mayor Lori E. Lightfoot joined Alderman Tom Tunney (44th), Chicago Public Library (CPL) Commissioner Andrea Telli, and Public Building Commission Executive Director Carina E. Sanchez today to celebrate the reopening of the Merlo Branch Library, located at 644 W. Belmont. Merlo Branch closed last year in order to undergo a $6 million gut renovation project and will be open effective immediately under CPL's modified social distancing guidelines.
"Chicago's libraries are more than just places to check out books. They serve as community anchors and centers for education, skills training, and much more," said Mayor Lightfoot. "The exciting renovations at the Merlo Branch Library have brought this beloved space into the 21st century with an array of new features and programming that will support the education and imagination of Chicagoans of all ages for years to come, and I applaud the many dedicated individuals whose hard work made this moment possible."
The renovated, two-story Merlo Branch Library will continue to offer traditional library services to the community but will also now provide all the flexible spaces and services featured in 21st century libraries. The branch will serve the neighborhood with a large community space, a dynamic children's area with a new Maker Lab, and an Early Learning Play Space, as well as a large enclosed YOUmedia area for teens, and an adult area with computers and reading space. The library also features a new opening day collection, including a significant focus on LGBTQ+ materials. Community spaces will be available for use once public health guidance allow.
"Merlo is the most recent of several important capital updates to our branches," said CPL Commission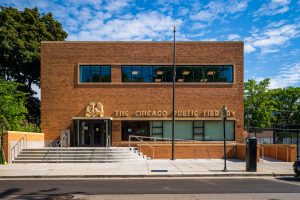 er Andrea Telli. "We continue to constantly evaluate community needs and changing library industry standards in order to ensure Chicagoans have up-to-date and modern places to learn."
The renovation project also featured energy-efficient upgrades to the interior and exterior of the building. Refurbishments also expanded ADA accessibility throughout the building and updated the façade of the library to a modern look that allows the beautiful bas relief and façade, originally designed in the 1940s, to be seen from the street. The renovation was designed by Carol Ross Barney and managed by the Public Building Commission (PBC).
"The Merlo Library Branch modernization and renovation project presented the Public Building Commission of Chicago, along with our partners, the opportunity to develop a striking architectural, community specific design that enhances library resources for the vibrant Lake View community," Carina E. Sanchez, PBC Executive Director said. "We are grateful for having the opportunity to construct a well-designed, quality renovation project for the community."
The redesigned spaces allow for additional flexibility to cater to specific community needs. Children ages birth to five will be able to utilize an expanded early learning play space and school age children will have access to a new Maker Lab. High school students will have access to the latest design technology and a new Teen Librarian in the enclosed YOUmedia teen digital learning space.
The new YOUmedia for teens reflects a trend, which began 10 years ago under the leadership of First Lady Amy Eshleman, of public libraries dedicating space to nurturing teens' values, identity, and the new skills necessary to grow and thrive. Teens at the Merlo Branch will be offered a variety of STEM-based and financial literacy programs, as well as book clubs.
"I am happy the day has come for all of us to walk through the doors of our beautiful library in the 44th Ward. The renovation and modernization of the Merlo Library will help children, families and seniors grow in an already tremendous community asset. As we all continue to navigate through the current state of our world, we now have another world we can all get lost in – the world of Merlo Library," said Alderman Tom Tunney, 44th Ward.
Merlo Branch opened to the public on September 14, 1942 at its current location and underwent its most recent major refurbishment in 1988. In June 1993, the branch was renamed for John M. Merlo, a local community leader and longtime Chicago politician. In 2016, Alderman Tunney used $50,000 of his discretionary menu dollars to fund a feasibility study of the Merlo Branch Library, which was conducted by the Public Building Commission and led to this $6 million renovation project. 32% of contract provisions for this project went to minority and women-owned businesses.
Merlo is one of several CPL buildings that has undergone major capital investment in recent years. CPL recently reopened Douglass Branch Library in the North Lawndale Community with extensive refurbishments. CPL also anticipates the opening of a new Altgeld Branch in 2020, a project in partnership with the Chicago Housing Authority and co-located with a childcare center; and is expanding and reestablishing Legler Branch as a regional library, the first on Chicago's West Side since the 1970s.
Chicago Public Library remains open to circulate materials and provide resources to Chicagoans. Social distancing and hygiene standards are in place, per public health guidelines, and all locations have abbreviated hours to allow for these measures to be enacted every day. CPL continues to encourage patrons to stay connected with online programming. Children, teens and families are encouraged to visit their local libraries as the 2020 Summer Learning Challenge and Teen Summer Challenge begin on Monday, July 6. CPL is proud to have these programs to help youth to their passions and interests during out of school time as part of My Chi, My Future. Programs and additional information are available online at chipublib.org.