FOR IMMEDIATE RELEASE
7/17/2017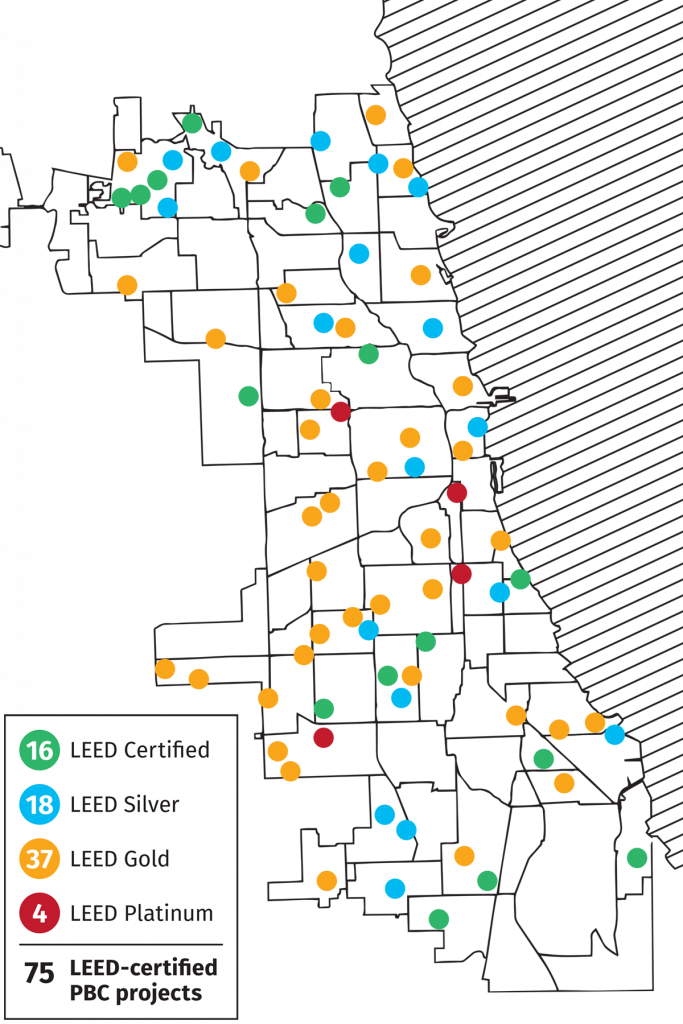 According to the 2017 National Green Building Adoption Index published by CBRE Group Inc. and Maastricht University, Chicago is the national leader in energy efficient office buildings. The city increased its percentage of green office space square footage by 6.5 percent in the last year, growing LEED or Energy Star certified city office buildings to 66 percent. The study ranked 30 of the largest real estate markets in the country and specifically cites Mayor Emanuel's Benchmarking Ordinance and other aggressive policy measures as catalysts for green building expansion.
"This study underscores the city's commitment to building a 21st century economy and fostering opportunities to make sustainability part of the Chicago experience," said Mayor Emanuel. "Chicago is a global clean energy leader, and will continue to make strides in establishing new norms by powering our public buildings with renewable energy."
In addition to progress made with commercial buildings, the City of Chicago, together with the Public Building Commission and its sister agencies, has achieved LEED certification on a total of 92 municipally-owned facilities, making Chicago the city with the most LEED-certified municipal buildings in the country.  The City met Mayor Emanuel's 2011 goal of doubling number of LEED certified municipal buildings in 2014.
"Chicago's recognition as a green building leader is a testament to Mayor Emanuel's commitment and passion for sustainability," said Brian Imus, Executive Director of the U.S. Green Building Council, Illinois Chapter. "With the Mayor's continued leadership, we are looking forward to building on this achievement by implementing green buildings and carbon drawdown strategies that will strengthen the health and livability of every neighborhood in Chicago."
This announcement builds on the strong environmental track record built since 2011. The city recently announced its commitment to shift energy usage at city-owned buildings to 100 percent renewable energy by 2025. In early 2017, Mayor Emanuel announced that Chicago has reduced its carbon emissions by seven percent from 2010 to 2015. The reduction in greenhouse gases came at the same time Chicago saw a 25,000 person increase in its population and 12 percent growth in the region's economy and jobs within the city. The emissions reduction, equivalent to shutting down a coal power plant for eight months, compares to a one percent increase in nationwide emissions from 2009 to 2014.
In June Mayor Rahm Emanuel filed an Executive Order formalizing Chicago's commitment to adopt the guidelines of the Paris Agreement after President Trump withdrew the United States, reneging on a consensus with 196 countries on environment protections.  The Executive Order commits the City of Chicago to the goal of reducing citywide greenhouse gas emissions to levels equivalent to or greater 26-28 percent reduction from 2005 levels to 2025, which is the original commitment made by the Obama Administration as part of the United States' commitment to the Paris Accord.
Chicago recently earned the 2017 ENERGY STAR Partner of the Year Award from the U.S. Environmental Protection Agency, an annual honor for organizations that have made outstanding contributions to protecting the environment through energy efficiency.
###