FOR IMMEDIATE RELEASE
12/11/2006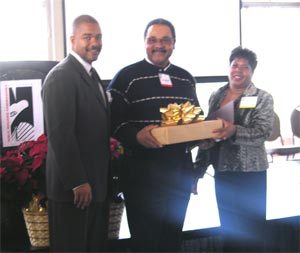 About 250 Chicago-area contractors attended the "Building a Better Chicago" open house event hosted recently by the Public Building Commission of Chicago.
The event held at the South Shore Cultural Center was aimed at providing contractors with information about new PBC projects in addition to details about efficiency initiatives within the organization, said Montel Gayles, executive director of the PBC.
"Our projects enhance Chicago's status as a world-class city, one that seeks to improve each community," Gayles said during his opening remarks. "These projects also help to create and expand opportunities for firms doing business within the construction industry."
Among the PBC activities discussed at the session was the "Modern Schools Across Chicago" program, a $ 1 billion plan under with the commission will manage the construction of 24 new schools and three major high school renovations over the next six years.
"Managing these projects is an enormous responsibility and we look forward to working with each of you in this effort," Gayles said.
Paul Spieles, director of development, discussed the PBC's efforts to improve efficiency, including faster payments to general contractors and subcontractors and higher performance standards for architects.
"We are going to be making real changes," Spieles said. "The PBC recognizes that minority- and women-owned businesses are often the firms hurt first and hurt most when payments are slow. We also know that these changes are necessary in order for us to achieve our goals for greater participation by minority and women businesses on our projects."
The event also served as an opportunity for contractors to network with members of the PBC staff as well as other contractors.
"I'm so glad I came," said Robert Richter, a thermographer and owner of Michigan City, Ind.-based Richter Infrared Imaging. "I made a number of contacts and have 20 follow-up letter to write. "It was nice to see the City of Chicago investing so much in its public facilities."
The PBC manages construction and renovation projects for the City of Chicago and its other sister agencies. Mayor Richard M. Daley serves as the PBC's chairman. More information about the PBC is available on the World Wide Web at: pbcchicago.com. Anyone interested in receiving instant notifications about new bid opportunities should visit the PBC's Web site and register for fee subcontractor alerts.