Commissioner, Metropolitan Water Reclamation District of Greater Chicago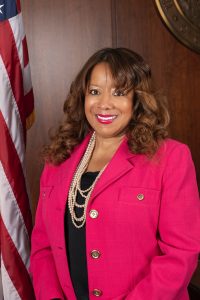 Kimberly Neely DuBuclet was elected to the Metropolitan Water Reclamation District of Greater Chicago (MWRD) Board of Commissioners in November, 2018. As a native resident of the South Side and a lifelong Chicagoan, she is proud to serve the residents of Cook County.
Commissioner DuBuclet is Chairman of the Federal Legislation and Labor & Industrial Relations Committees. She also serves as Vice Chairman of the Budget & Employment Committee, Pension, Human Resources & Civil Service Committee and the Stormwater Management Committee. Commissioner DuBuclet is also a trustee for the MWRD Retirement Fund.
Prior to joining the MWRD Board, Commissioner DuBuclet served as the Legislative and Community Affairs Director for the Chicago Park District where she worked with community organizations and elected officials around the city and the state to improve parks and park programming throughout Chicago. As part of her duties, she closely monitored legislative activity at all levels of government to assess the impact of proposed legislation on the Chicago Park District.
Commissioner DuBuclet previously served as a Representative in the Illinois General Assembly where she represented the 26th District. While serving, she was recognized by and received an award from the Illinois Environmental Council for consistently voting with the environmental caucus.
As a Commissioner, she is working to increase awareness of environmental justice issues throughout Cook County and to increase open green space for communities while providing additional green infrastructure opportunities for water conservation. Commissioner DuBuclet strives to fulfill the mission of the MWRD which is to protect the quality of our water supply, improve the quality of water in our waterways and to protect businesses and residences from flood damage across Cook County.
Commissioner DuBuclet attended the University of Chicago Laboratory Schools for high school and graduated from the University of Illinois at Urbana-Champaign where she earned a BS in Marketing. She finished her education by earning a Master's in Business Administration from the University of Chicago Booth School of Business. Commissioner DuBuclet is active in numerous community organizations including Alpha Kappa Alpha, The Links, Inc., The Girl Friends, Inc., The Museum of Contemporary Art Women's board, Quad Cities Development Corporation board, former member of Jack and Jill, and former AIDS Foundation of Chicago board member.